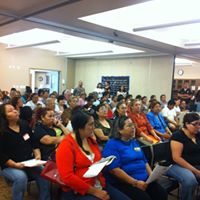 The Reform Immigration for Texas Alliance, RITA, is the leading grassroots statewide alliance of pro-immigrant organizations and allies in the business, religious, and law enforcement sector. RITA is working to develop and foster an inclusive environment in Texas.
RITA was founded in 2009 by a group of organizations who saw the need to collaborate for immigration reform.
RITA is a project of the Border Network for Human Rights.
Executive Committee Members:
Austin Immigrant Rights Coalition (AIRC)
Border Network for Human Rights (BNHR)
Casa de Proyecto Libertad
Faith in Texas
La Union del Pueblo Entero (LUPE)
Movimiento del Valle por los Derechos Humanos
South Texas Human Rights Center
Workers Defense Project
Member Organizations: ACLU of Texas; ARISE, Rio Grande Valley; Alianza Mexicana, Houston; Coalición de Organizaciones Mexicanas, North Texas; Education Austin; Equal Voice Network, Rio Grande Valley; FIEL, Houston; Fuerza del Valle Worker's Center, Rio Grande Valley; La Frontera Ministries, Rio Grande Valley; Interfaith Welcome Coalition, San Antonio; Latinos Inmigrantes Triunfadores (LITE), Houston; Mi Familia Vota; Migrant Rights Collective/Colectivo Derechos de Migrantes, Houston; MoveOn.org Central Texas; National Latina Institute for Reproductive Health; North Texas DREAM Team; Proyecto Juan Diego, Rio Grande Valley; Proyecto Azteca, Rio Grande Valley; Texas Organizing Project (TOP).
Join Us
Be part of building of movement to protect immigrant communities in Texas.